About Us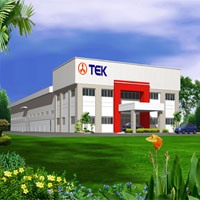 TEK Industries Co., Ltd specializes in providing precision plastic injection molds, quality tooling, and Product development. The core business of the company is the manufacture of the Automotive, Electronics, Electric, House ware appliances.
The Company was established in 2009 and situated in Bang Pakong, Chachoengsao, Thailand.
Established in 2009
Capital : 30 Million Thailand Baht
Net worth : 110 Millions Thailand Baht
Factory Area : 7400 Sq/Meter
ISO 9001-2008 Certified
Tooling Manpower Compilation
Office: 16
Designers: 6
Machine Processers: 23 (CNC, Milling, Wire-cut, EDM)
Manufacturers: 21 (Fitting, Polishing)
QC / Project Engineer: 6
Total: 72
The Measuring Tool for Mold and Finished Products:
2.5D Measuring Instrument
3D Coordinate Measuring Instrument Projector
Design Software
3D - Unigraphics, Pro Engineer
2D - Auto CAD
CAM - Cimatron
Factory Facilities
Our experience and expertise will transform your products ideas into reality, using state-of-the-art 3D design for speed and accuracy.
What made TEK different?
TEK team consists of professional mold designers and tool making experts, we are confident to deliver the best quality mold.
All our engineers are well trained and specialized in plastic knowledge; we can provide innovative solutions for our clients.
We guarantee mold life and provide maintenance for domestic molds.
TEK provide one-stop solution, helps clients from design to product manufacturing.
Our production lead time is steady and predictable, which suitable for just-in-time manufacturing. We help clients for optimizing their productivity and reduce the production cost by redesign the mold.
Our Goal
" TEK's goal is to provide clients with dependable, quality-oriented services and products in a cost effective manner. Being able to accomplish this goal is what makes us unique. "